So Group | About Us
More than anything, in the current climate, businesses are looking to cut their overheads, run efficiently, improve productivity, and have an edge over their competitors. We are a hard working family company, we are focused on looking after our customers.
We know you've got to keep costs down, improve conditions and increase productivity – and still do a day's work - we understand. SO, we're here to help. In fact, we offer SMEs a free audit, to help work out ways you can reduce your facilities costs.
Our mission is to provide integrated workplace services in an environmentally and socially responsible manner. In other words, to provide office recycling and other services in a way that is sustainable now, and in the long term. We believe our combination of services will build a company's success, while protecting the environment and investing in future generations. These are three things we genuinely care about.
Our workplace facilities services are designed to make your office a better, happier and healthier place to work. We can make you greener and even give you a certificate to prove it. We can keep your bins empty, your carpets cleaner and your staff hydrated. We can even give you fresher air to breathe!
Now, doesn't that sound better already?
Are you looking for a faster pace of work? Are you interested in working in a hard working customer focused team? If you share our values and want to get ahead why not send your CV and we will be in touch if we have something for you careers@sogroupuk.com
OUR VALUES
Fast
Personal
Can-do attitude
HILO - Honesty, Integrity, Loyalty, Obedience
Check out our NEW company video - click on the button below!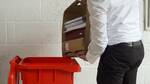 _____________________________________________________________